Lithium Ion Power Systems
Safe, Efficient, and Reliable
Lithium battery-based technology supports the high energy needs of many heavy-duty applications. Bluways' established and proven experience with advanced energy technology provides you with a solid launch point for your latest energy storage initiatives.

Our foundation of solid engineering for transit ensures that Bluways' energy storage solutions are ready to be integrated into the most demanding applications in a wide range of fields. Our flexible solutions provide you with access to different price points, energy capacities, and charge/discharge rates that you can apply to meet your unique requirements.
When you choose an Bluways Energy Storage System, you benefit from our years of development and production in mastering the way energy cells work in unique power applications. This advantage eases integration and streamlines the process of combining unique configurations.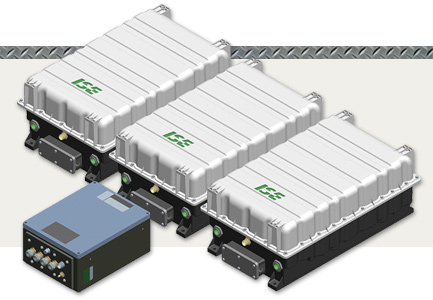 Bluways Energy Storage Systems for Proven, Reliable Performance
A NEW HYBRID-ENERGY PARADIGM
"Bluways is moving the transportation industry one step closer to zero emissions with a new hybrid-energy paradigm that calls for smaller engines and increased energy storage."