Blended Energy Solutions
Bluways Blended Energy Flex Pack
Bluways' Blended Energy Flex Pack offers you the flexibility to combine Ultracapacitor-based and Lithium-Ion-based energy systems for a superior blended high-power/high-energy system. Our flexible configuration architecture supports the use of variable kilowatts depending on your application. This architecture melds with our extensive portfolio of intellectual property (IP) in the area of heavy-duty energy storage solutions to give you the added benefit of faster deployment and ease of customization.
Key Advantages
Enables the coupling of energy storage systems
Extends battery life
Reduces cost
Increases Energy Storage efficiency
Reduces weight and volume

The Bluways Master Control Module
The Bluways' Energy Master Control Module is the brain of the Energy Storage System. A programmable controller handles all communication and power management for energy storage module. The Controller Junction Box contains pre-charge circuitry, main contactors, a 500A+ rated current sensor, high voltage/isolation measurement, and a CAN J1939 user interface. Combined with Bluways' modular pack design, the ESS Control Module allows easy system integration and scalability.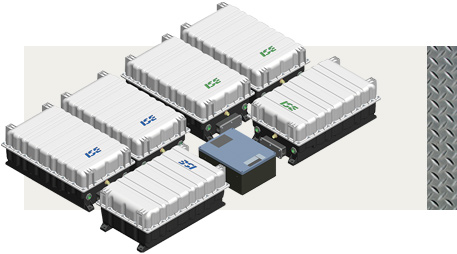 HIGH-POWERED PROPULSION
Read a comparison of Energy Storage Requirements between Passenger Cars and Transit Buses.
Get the Datasheet »
Bluways Energy Storage Systems for Proven, Reliable Performance
A NEW HYBRID-ENERGY PARADIGM
"Bluways is moving the transportation industry one step closer to zero emissions with a new hybrid-energy paradigm that calls for smaller engines and increased energy storage."